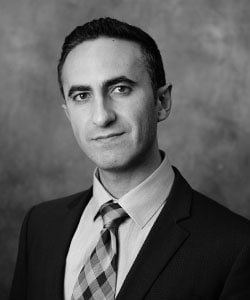 Ben Yeroushalmi
Download VCard
Toll Free: 888-606-3453
Phone: 310-623-1926
Fax: 310-623-1930

9100 Wilshire Blvd #240W
Beverly Hills, California 90212


Ben Yeroushalmi is an aggressive litigator with over 16 years of experience in protecting the rights of elder and dependent adult residents of Nursing Homes and Assisted Living Facilities and consumers throughout California. He is AV rated by Martindale-Hubbell®, rated by his peers for the highest level of Professional Excellence and High Ethical Standing. Through his extensive experience and success representing victims of abuse and neglect in Nursing Homes and Assisted Living Facilities, Mr. Yeroushalmi was selected to the California Advocates for Nursing Home Reform (CANHR) Lawyer Referral Service, the most important statewide service dealing primarily with elder law issues.
Mr. Yeroushalmi is a passionate advocate for the elderly and disabled. As the founder of one of California's premier Elder Abuse and Neglect law firms, Mr. Yeroushalmi has extensive knowledge of the legal and emotional intricacies of elder abuse and wrongful death cases and represents every one of his clients with vigor, compassion, and purpose. Applying a multi-disciplinary approach to litigating both individual and class actions on behalf of victims of abuse and neglect at California Nursing Homes and Assisted Living Facilities, Mr. Yeroushalmi is recognized by his peers as one of the best elder abuse practitioners in California.
Throughout his many years of practice in intensive, challenging litigation, including class actions where he served multiple times as "Lead Counsel", Mr. Yeroushalmi has been critically influential in accomplishing major victories on behalf of the public across the state of California, including on behalf of patients of Skilled Nursing Facilities.
Mr. Yeroushalmi's fervent representation of elder and dependent adult victims of neglect and abuse is driven by his strong belief in the principles of earnest advocacy and honor. Mr. Yeroushalmi has been greatly influential in critical changes to business operations in both individual and class action cases against Skilled Nursing Facilities and their corporate operators, specifically in regards to nurse to patient staffing levels and improvements in quality of care, resulting in concrete enhancements to California's elderly population.
Mr. Yeroushalmi has also assisted in representing thousands of aggrieved consumers in several consumer class actions, including the "Bank Privacy" cases against several primary financial institutions and other events where large classes of consumers have been injured due to unfair and deceptive business practices. His experiences in representative actions have included several successful journeys to the Appellate Courts, one of which resulted not only in a victory, but also a significant benefit on behalf of the public. Through his litigation, he has also ensured the establishment of hundreds of changes in harmful business practices that on a regular basis protect Californians from and inform them of the dangers of carcinogens and reproductive toxins.
Mr. Yeroushalmi is an experienced trial attorney, and passionately prepares each case for trial from its inception, utilizing the experiences and resources available to him to obtain the maximum results for each and every one of his clients. Mr. Yeroushalmi has recovered millions of dollars for his older adult clients and their loved ones in elder abuse cases pertaining to allegations of understaffing and neglect consequently leading to adverse outcomes such as dehydration, malnutrition, falls, infections, bed sores and wrongful death.
Mr. Yeroushalmi obtained his B.A. from the University of California, Los Angeles in 2001 and his J.D. from the University of Southern California, School of Law in 2004. He is a member of the American Association of Justice (AAJ) and an active member of AAJ's Nursing Home Litigation Group. He was named by The National Trial Lawyers, a professional organization of the nation's premier trial lawyers, as a Top 100 Trial Lawyer in California and is a member of The National Trial Lawyers Top 40 Under 40. Mr. Yeroushalmi is also a member of Consumer Attorneys of California, and the Los Angeles County Bar Association, Litigation Division.
Education
J.D., University of Southern California, 2004
B.A., University of California - Los Angeles, 2001
Jurisdictions Admitted to Practice California