Falls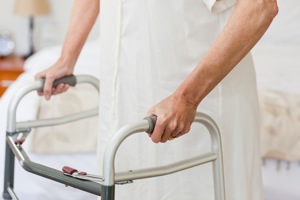 Here at the Law Offices of Ben Yeroushalmi, our Los Angeles fall injury attorneys handle cases that involve injury in nursing homes, whether such injuries are caused by nursing home negligence or nursing home neglect. We have extensive experience with cases of injuries that result from falls and understand that your loved one's fall may have been prevented with proper supervision by the nursing home staff.
According to the Center for Disease Control and Prevention, nursing home residents account for about 40% of preventable hospital visits and 20% of persons who die as a result of falls. Studies also illustrate that on average, a nursing home patient suffers more than two falls per year, that a large percentage of fall injuries happen to patients who are immobile and cannot walk, and that use of restraints does not prevent or even lower the risk that a patient will suffer a fall at a nursing home. In the experience of the fall injury lawyers of the Law Offices of Ben Yeroushalmi in Los Angeles, falls often result in injuries such as bone fractures, broken hips, and head injuries, and can lead to hospitalization, severe pain, and sometimes, even death.
The issue is deciphering whether a fall is preventable. In most instances, if the necessary care and proper supervision is provided, such as interventions and care-planning, falls can be avoided. Because fall-related injuries are so often preventable, the Department of Health and Human Services has actually implemented a rewards program for healthcare facilities that can decrease the number of accidents that occur under their care.
The first step is to actually prepare a detailed plan of care to prevent falls, especially for those residents most susceptible to falling. The next and equally important step is to provide sufficient and qualified staff that will properly carry out the care plan. Unfortunately, many falls occur specifically because adequate staff is not provided to carry out care plans for each resident. For example, when a resident who is known to need physical assistance is improperly left unattended (or his or her call lights are left unanswered for long periods of time), and that resident falls and fractures a hip, such a fall was a result of the neglect of the nursing home, and most likely a direct result of its decision not to hire sufficient staff. If you believe that injury has occurred due to understaffing at a nursing home, you may want to contact a fall injury attorney in Los Angeles.
It is also important that the nursing home maintain its patients' mobility for as long as possible. This can be done by encouraging residents to participate in physical activities and exercises, such as resistance training, which, in addition to improving muscle strength, have been proven to provide psychological benefits as well. The implementation of these activities, however, requires additional staff and supervision. Therefore, it is usually difficult for understaffed facilities to successfully provide these programs for their residents.
Instead, many facilities unfortunately choose to take an alternative route that is more convenient to them, but also detrimental to the patient's health. Often, nurses will use devices to physically restrain residents who are at high risk of falling. However, physical restraints have been proven to expedite a decline in mobility in the elderly and can also be damaging to a patient's mental health. Other facilities may be restraining their patients using medications. The use of restraints, however, whether chemical or physical, is a Violation of Patients' Rights.
The fall injury lawyers at Law Offices of Ben Yeroushalmi in Los Angeles have obtained numerous positive outcomes for Violation of Patients' Rights, as well as many others for Negligence, Elder Abuse, and Wrongful Death. Equipped with more than 16 years of experience, our nursing home neglect attorneys are prepared to face any challenges that may come with litigating an elder abuse case. If your loved one has suffered a fall in a nursing home, please contact us today. As with every other inquiry, we will do a free comprehensive assessment, based upon consultations with our team of experts, and advise you on your legal options.